Installation piece, Disparition Landscape. Ceramic, wire, cellophane, fabric, thread - 2010.
Vase, Tulipier. Glazed ceramic, H 11 / Phi 12,5 cm - 2018.


Vase, Pique-Fleurs Dominos .Glazed ceramics, miniature pieces 4 cm - 2018.


Vase, Bouquetière. Glazed ceramics, H 16 / Ph i27 cm- 2017.


Vase, Pique-Fleur. Glazed ceramics, H 9 / 16x16 cm - 2018.


Vase, Trio. Glazed ceramics, H 17 / 22 x 23 cm - 2018.


Vase, Tulipier. Glazed ceramics, H 18 / 10 x 20 cm - 2017.


Vase, Pique-Fleur. Glazed ceramics, H 8 / 20 x 24 cm - 2016.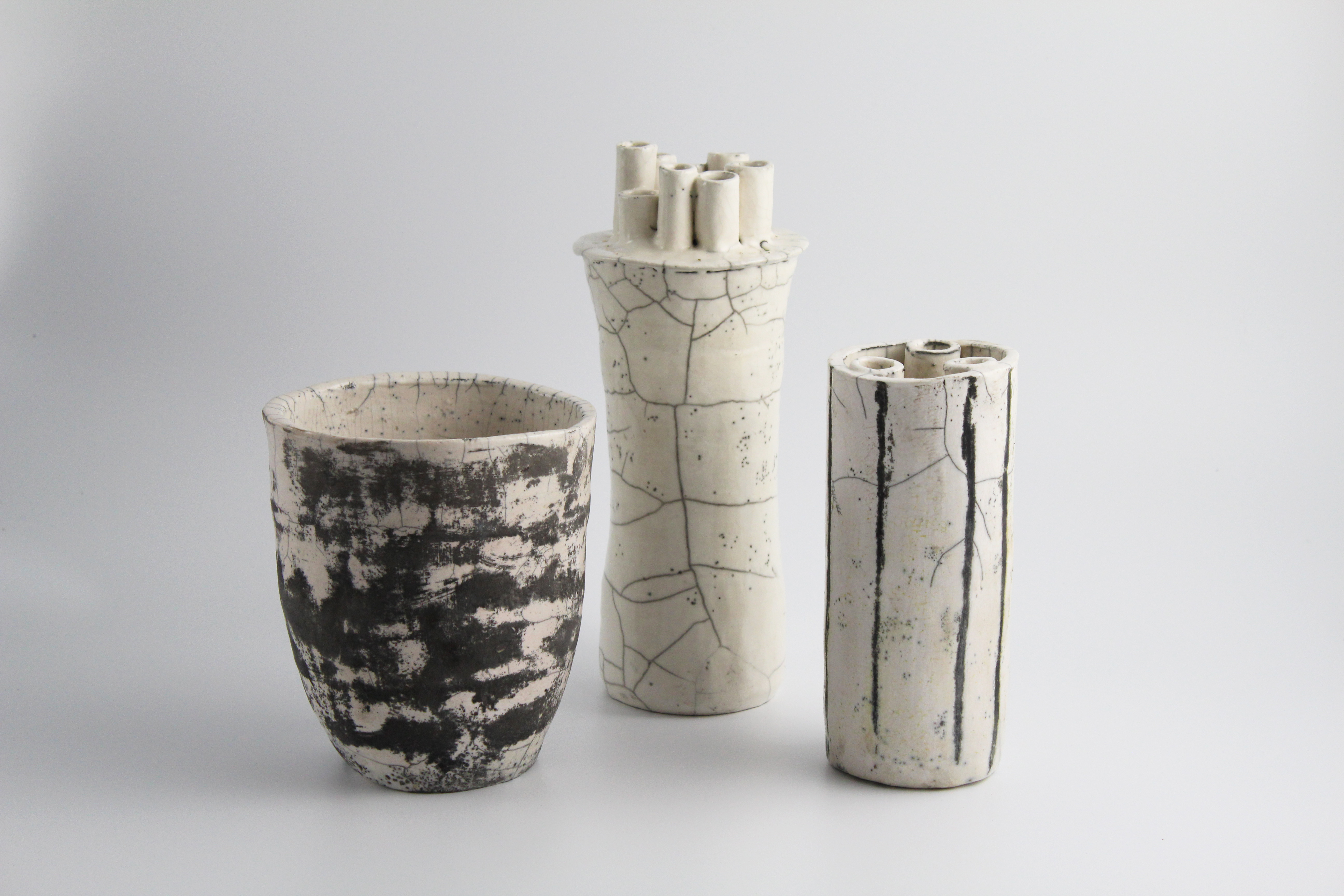 Three vases. Glazed ceramics, H 18 to 29 / Phi 9 to 16 cm - 2018.
Petits Riens. Glazed ceramics et autres matériaux- 2018.


Installation, Flower Family. Forty pieces of glazed ceramics - 2013 to 2015.

OUTTAKES OF ESSAYS PUBLISHED IN CÉCILE DALADIER : PIQUE-FLEURS by POETIC PASTEL PRESS

The Place of Flowers by Madeleine Lavignasse 2018
Cécile's vases encourage us to pick the flowers one by one and not to gather them anonymously in an armful, but for each of them to find its place in the pique-fleurs that awaits it, in a floral composition that allows each flower to exist.

Hollows Full of Sense : Cécile's Pique-Fleurs by Georges Métailié, 2018
The principal French dictionaries ignore this word. The thing would not exist ? Evidently not. Moreover, there are several types of them. One thinks at first of objects of Japanese origin, consisting of a heavy metallic sheet, circular, square or rectangular, with hedgehog-like spikes also in metal on one side. Placed in the base of a vase, this device enables one to insert sectioned stalks of plants, in order to form a flower arrangement, ikebana. The artist jabs the stalks onto the spikes in accordance with the desired composition.
Cécile Daladier's creations, in the continuity an ancient French tradition, operate on a different principle. Her pique-fleurs are vases, unique pieces in ceramics of the raku type, presenting holes to receive the flower stalks or branches which will form the bouquet. So, here, it is the artist that determines the basic structure of the future floral composition, which, as a result, will be the fusion of two aesthetic inspirations.